Native American advocates say the Boy Scouts have misappropriated regalia and promoted racist stereotypes for more than a century.
The Boy Scouts of America recently asked members whether it's time to change century-long traditions and practices that critics say misappropriate Native American culture.
In a recent email survey taken by 35,000 current and former members, the national organization asked a broad range of questions about what changes — if any — should be made to its usage and portrayal of Native American imagery, ceremonies and rituals.
Despite decades of calls for reforms from some scouts and Indigenous advocates, the organization still encourages scouts to don headdresses and imitate Indigenous dances as part of its honor society. Some chapters and camps carry made-up, Indigenous-sounding names. Indigenous advocates have decried the depictions as racist and oppressive.  
The 20-question survey, circulated last month, gave a range of multiple-choice options in response to questions about programs that involve Native American culture, including its honor society, "Order of the Arrow." The possible answers ranged from eliminating all "program elements that relate to Native American culture" to changing nothing. It also included options for continuing to update traditions in consultation with tribes.
The survey's results are not yet available but will be released publicly when they are, a spokesman for the organization said in a statement.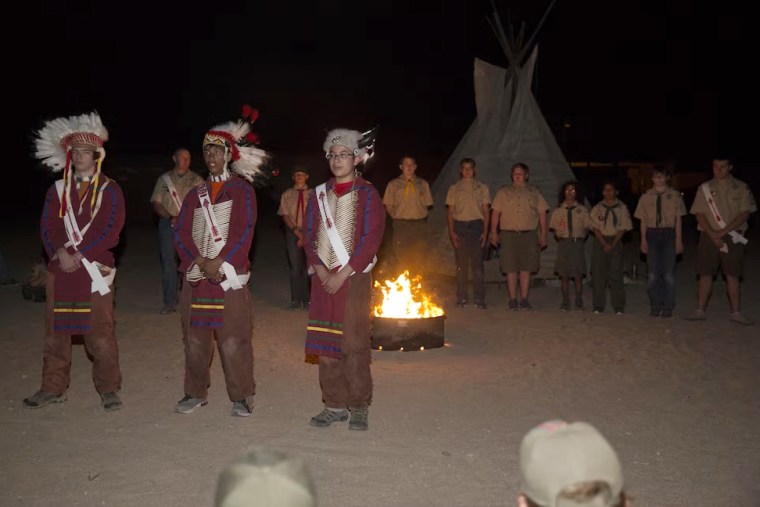 Despite the range of the survey's possible answers, the organization said in a statement to NBC News that "there are no plans to eliminate Native American traditions from the BSA program."
"Native American traditions have been an important part of the BSA program for more than 100 years and during that time Scouting has worked hard to share those traditions while upholding the highest standards of accuracy and respect," the statement said. "We are proud that generations of American youth have gained an enduring appreciation for Native American traditions through the Scouting program."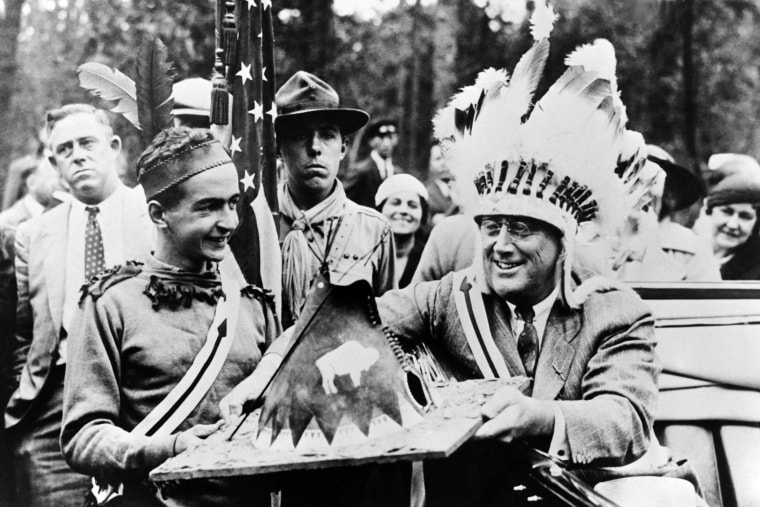 The organization routinely surveys members, although it has been years since it sent out a survey focused solely on the treatment of Native American culture and traditions, according to the statement.
The Boy Scouts' poll comes amid growing, national backlash over the misappropriation of Indigenous culture. In recent years, professional sports teams have retired their Native American mascots. Federal and state governments have renamed parks and monuments. And both the YMCA and Camp Fire stopped using Indigenous names for campsites and chapters in youth development programs.
Philip Deloria, a Harvard historian and author and member of the Dakota Nation, said the imagery and themes still used by the Boy Scouts build upon exaggerated and offensive depictions of Native life. They're fantasies that lead to distorted perceptions of Indigenous people, said Deloria, who was nominated to the Order of the Arrow when he was in middle school.
As part of the initiation, Deloria, 64, recalled camping around a bonfire as a canoe made its way across a dark lake. Several older boys dressed as Indians rowed the boat as a scoutmaster wearing a headdress and held a torch. As the canoe beached, the older scouts jumped out and wrestled the younger ones to the ground, he said.
Deloria said he hoped the survey signaled that the Boy Scouts may finally stop appropriating Indigenous cultures, but that he remained skeptical.
"It's assuming that members of the Scouts and the Order of the Arrow have perhaps come to some kind of new sort of cultural consciousness around these kinds of issues, which is probably a debatable proposition," he said.
The Boy Scouts made changes to the Order of the Arrow in 1998, calling for increased emphasis on pictures of the arrow instead of "Native American imagery," according to the website for the honor society.
Scouts in the program are now also prohibited from painting their faces and performing certain dances that "have religious significance."
"In instances where BSA's standards for accuracy and respect have not been met, the organization takes action to educate our youth and adults, and where necessary modify our programming," the organization said in its statement.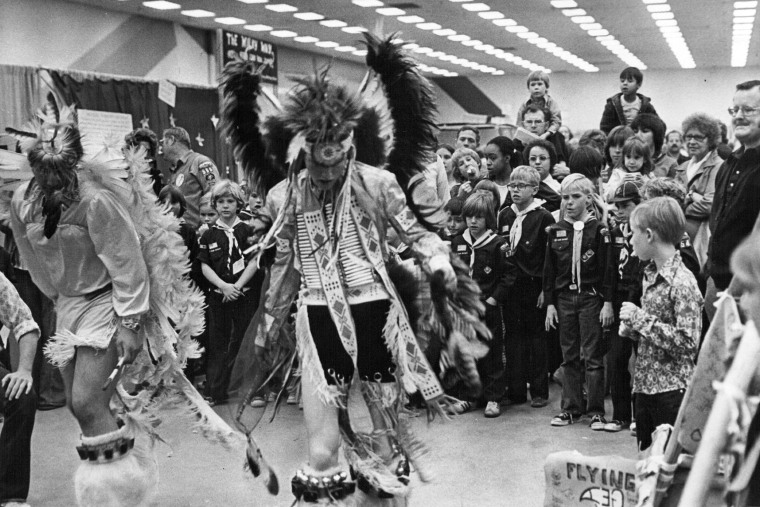 David Hurst Thomas helped revise the Boy Scouts "Indian Lore" merit badge in 2008 when he was a senior curator of North American archeology at the American Museum of Natural History. He said it used to be "horrible." "You're treating these people like they're extinct," Thomas, who is not Native American, recalled telling leadership back then. The changes improved it, he said, but did not go far enough in eliminating old stereotypes.
The Boy Scouts routinely evaluate merit badges, the organization said in a statement, and recently undertook a new review of the Indian Lore badge in consultation with tribal members. When the organization started considering possible changes to the badge, "scholars and scouters from Native American communities viewed the merit badge as a unique and valuable youth education opportunity and urged us to improve it, rather than discontinue the badge," according to the statement.
A spokesman declined to specify who exactly it consulted with or provide additional details, saying any changes would be unveiled later this year.
Suzan Shown Harjo, a prominent Cheyenne and Hodulgee Muscogee advocate for Native American rights, said she remembers her parents discouraging her brothers from joining the Boys Scouts in the 1960s after they learned how it depicted Indigenous people, calling it dehumanizing.
"There's been a lack of respect all along about what they're doing, whose culture it is," she said.
Jared Hautamaki, a member of the Sault Ste. Marie Tribe of the Chippewa Indians, worked his way up to Life Scout, the second highest rank under Eagle Scout, in the 1980s. Scouting introduced him to some of his lifelong interests, including sailing and hunting, he said. But he said he wouldn't let his children join the organization — not as long as it continues to disrespect Indigenous cultures. 
"We have to be a part of that conversation. It's our culture," said Hautamaki, who is now a senior adviser at the Bureau of Indian Education.
Pulling out his Webelo handbook, Hautamaki read through the career paths the Boy Scouts promote, including engineer, geologist and scientist. "You don't need to appropriate Native American culture, imagery, ceremonies to teach any of these things."
As a teenager, Phillip Rice was thrilled when the leaders of his Boy Scout troop invited him to join the Order of the Arrow, an honor society that dates back more than a century.
On the night of his induction about 20 years ago, he said a white troop leader wearing a feather headdress led him and the other boys silently through the woods of what was then the Rota-Kiwan Scout Reservation in Kalamazoo, Michigan. Around a bonfire, scout leaders chanted while wearing masks and animal pelts, Rice said. Then they told the boys to safeguard the secrecy of the ceremony and sent them off to spend a night silently in the woods.
It took Rice, who is white, years to understand what he was participating in and witnessing, he said.
While in college, he incorporated Ojibwe songs into a composition he performed as a music student at Central Michigan University. It was met with a standing ovation from his peers and several offers for publication, he said. But when he posted it online he received a flood of messages condemning it and calling him out for using the material without the permission or participation of the Ojibwe people.
Rice said he struggled to understand how and why using those songs could be viewed as harmful. Just like he had been taught in the Boy Scouts, Rice said, he had believed he was honoring the Ojibwe.
A few years later, when he was a graduate student at Michigan State University, Rice was walking across campus and came upon the Boy Scouts annual convention. He noticed on a hot air balloon the depiction of a Native man wearing a headdress. "And it all kind of like came flashing back, and I realized 'Oh my gosh, that was all appropriated all throughout my youth.'"
That day in 2015, Rice put on his Boy Scout uniform and joined Indigenous students in a protest outside the convention. He said every Boy Scout he talked to was angry with him. After a heated argument, one young scout, who appeared to be about 12 years old, took out a pocket knife and threatened to cut off Rice's uniform, he said.
Rice said it's long past the time the Boy Scouts should have ended its depictions of Native American culture. But thinking back on that moment at the protest, he said he could also empathize with that boy and see how hard it can be to acknowledge how some aspects of the Boy Scouts are harmful to many Indigenous people.
"I'm not surprised that the boys were not ready to hear that," he said. "I was surprised that the leadership was not willing to listen."
Source: NBCNews