A Black teenager who authorities say was shot by an 84-year-old White homeowner after going to the wrong Kansas City address has received a positive prognosis but still faces a long road to recovery as his family fights for justice in his case, according to his attorneys.
"Thursday night, doctors were scraping off bullet fragments off his brain. Saturday, he was released from the hospital," Yarl family attorney Lee Merritt told CNN Tuesday night, calling Ralph's recovery a miracle.
Ralph, 16, rang a doorbell on April 13 and was shot in the head and arm by the homeowner, who opened fire through a locked glass door without any words exchanged, according to statements in a probable cause document obtained by CNN.
Homeowner Andrew Lester – who faces two felony charges, for assault in the first degree and armed criminal action – told police he opened fire because he thought the teen was trying to break in and he was "scared to death" due to the boy's size, according to the document.
Lester turned himself in at a detention center Tuesday, then hours later was released on $200,000 bond. He is expected to be arraigned Wednesday afternoon, according to Merritt.
CNN has not been able to reach the homeowner. CNN has yet to determine whether Lester has an attorney.
On Tuesday, Ralph's attorney and aunt challenged the notion that the boy's size could have been intimidating.
Ralph stands at 5 feet, 8 inches tall and weighs 140 pounds, Merritt said Tuesday night.
"He's the least imposing kid that I've come across," Merritt said. "He is a 16-year-old musician. He is not known for his physical prowess."
Ralph's aunt also questioned how the boy could have looked threatening.
"There is no way you can see fear when you look at that kid – if you really look at him, and not just the color of his skin. There is no way you can see fear," Spoonmore said Tuesday morning.
Police responded just before 10 p.m. that night after receiving reports of a shooting. They arrived to find Ralph wounded in the street. The boy had gone to neighbors looking for help after he was shot, according to police.
Merritt said the boy's prognosis is "very, very positive,"
"He has a prognosis of a full recovery, minus scarring and long term, maybe, CTE and Post Traumatic Brain Injury symptoms," Merritt said Tuesday night.
Still, the teenager – who plays bass clarinet and is a band leader in school – faces a long road to recovery, both emotionally and physically, according to his aunt.
"He lost a part of himself that day. A lot has changed since that happened. The way in which he's gonna walk through this world, it's gonna be totally different because of what happened," Ralph's aunt Faith Spoonmore said.
Kansas City Mayor Quinton Lucas said he believes Ralph was racially profiled by the shooter.
"To pretend that race is not a part of this whole situation would be to have your head in the sand," Lucas said. "This boy was shot because he was existing while Black."
Clay County Prosecuting Attorney Zachary Thompson has previously said, "There was a racial component to this case," but did not elaborate.
Questions over Lester's release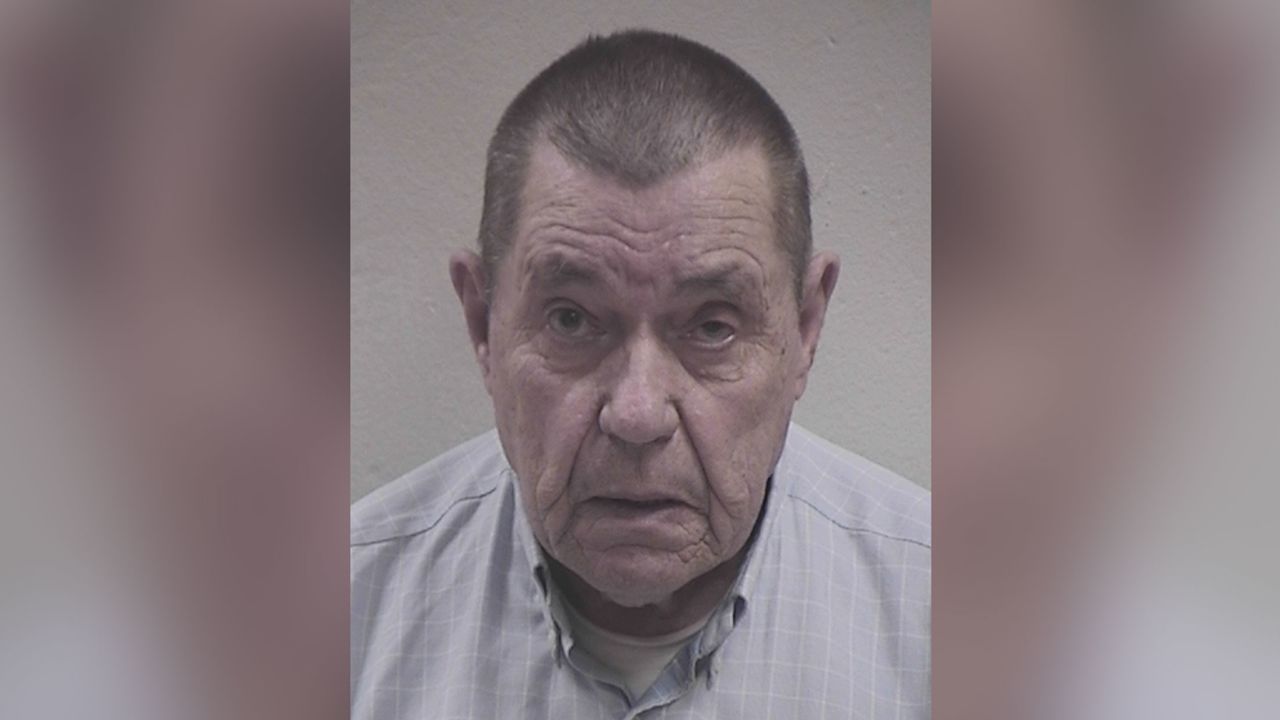 This booking photo of Andrew Lester was taken after he turned himself in to authorities Tuesday.Clay County, Missouri, Sheriff's Office
Questions remain over why Lester was released a few hours after being detained the night of the April 13 shooting.
Lester was taken into custody and then released less than two hours later that night, two representatives at the Kansas City Police Department detention unit previously told CNN.
Merritt told CNN Tuesday night that he hasn't received a satisfactory answer as to why the suspect wasn't arrested until Tuesday – days after the shooting.
"I share the outrage and the concern of many in asking why," Mayor Lucas told CNN Tuesday morning.
"In Missouri, you can have a 24-hour hold. It is clear here that this was two or three hours, where they questioned the suspect. He was able to go back home that evening," he added.
Prosecutor Thompson has said previously that Lester was released because police recognized that more investigative work needed to be done.
On the night of the shooting, the boy was asked to pick up his siblings and mistakenly went to 1100 NE 115th Street instead of 1100 NE 115th Terrace, police and Ralph's family have said.
When he arrived at the house, Ralph said he rang the doorbell and waited a while before a man eventually opened the door and immediately shot him in the head, causing him to fall, the probable cause statement says. While the teenager was still on the ground, the man then fired again, shooting him in the arm, Ralph told police.
Lester told police he opened his interior door and "saw a black male approximately 6 feet tall pulling on the exterior storm door handle," according to the document.
"He stated he believed someone was attempting to break into the house, and shot twice within a few seconds of opening the door," the probable cause statement reads.
The boy told police he did not pull on the door, according to the probable cause statement.
Kansas City Councilman Eric Bunch said the interaction should not have ended in gunfire, whether Ralph had intended to knock on Lester's door or not.
"You have a right to walk up to someone's door and ring their bell," Bunch said.
"This is a stand your ground state, and I think that unfortunately leads often to cases like this. Add in implicit bias, and you have a recipe for disaster," Bunch said.
It remains unclear whether "Stand your ground" laws will play a role in Lester's case. The laws allow people to respond to threats or force without fear of criminal prosecution in any place where a person has the right to be.
Merritt told CNN he doesn't believe such a defense would apply, saying Ralph was never a threat.
"Those are self-defense statutes," Merritt said Tuesday morning. "Those are saying that you have the right to protect yourself against force exerted against you … He was never confronted with force. Ralph never even tried the door handle. He rang the doorbell, and he waited."
Over $3 million raised for Ralph
An image of Ralph Yarl taken from social mediaFrom Instagram
The GoFundMe page started to help the Yarl family with medical expenses had garnered more than $3 million from more than 80,000 separate donations by Tuesday night – up from $2 million the night before.
"Ralph is currently at home with the family. He can ambulate and communicate. A true miracle considering what he survived," Spoonmore posted in an update on the page.
"Each day is different. He has a long road ahead. However, we are very thankful that he is still here with us. I've been taking the time to read the emails and comments to Ralph. It warms our hearts to see him smile at all the kind words. Thank you so much for loving Ralph," she added.
The shooting fueled protests in Kansas City and spurred a "Unity Walk" in support of Ralph Tuesday by an estimated 1,500 students at Staley High School, where the teenager was a junior, CNN affiliate KMBC reported.
President Joe Biden spoke with Ralph and his mother, Cleo Nagbe, by phone on Monday evening, a White House official told CNN, saying the conversation also covered their families, their love of music and Ralph's dream of pursuing a chemical engineering degree at Texas A&M University.
"The president also committed to keeping up his fight against gun violence," the official said.
Vice President Kamala Harris also spoke with Ralph Tuesday afternoon, according to Merritt.
Source: BBC