To become Speaker of the US House of Representatives, Kevin McCarthy was compelled to change a rule, to enable a single lawmaker to move to oust him.
It was one of many actions he took – over 15 consecutive rounds of voting in January – to win the support of the right wing of the Republican party.
But in the end, perhaps none of it was enough to appease some of his members.
Matt Gaetz, a Florida congressman, vowed on Sunday to trigger Mr McCarthy's removal this week.
That was in response to the Speaker securing Democratic support to pass an 11th-hour funding bill that narrowly averted a government shutdown.
The spending measure left out additional funding for Ukraine because Mr Gaetz and other ultra-conservatives have insisted the US can no longer afford to fund its defence against Russia.
But Mr Gaetz alleged in a Monday speech that the Speaker had cut "a secret side deal" with President Joe Biden and Democrats to bring new funding to a vote in separate legislation soon.
The potential manoeuvre to remove Mr McCarthy is one that could throw an already unruly House into even further disarray.
Though he could not always be taken at his word, Mr McCarthy is still viewed as a moderate lawmaker who shuns the hardball tactics favoured by his most conservative rank-and-file.
He also appears to remain broadly supportive of more US funding for Ukraine in its war with Russia, while many in his party have drifted away from such a commitment.
If the California native is ousted, however, it is unclear who would take his place, how his replacement might govern, and how that might affect the money tap for Ukraine.
It has been a difficult nine months in charge for Mr McCarthy, the great-grandson of an Irish labourer who immigrated to the US in the 1860s.
The most conservative lawmakers in his conference had argued from the start he would not push hard enough to rein in spending or back their policy priorities.
Given that Republicans control the 435-seat House by a slim nine-seat majority, these members have had an outsized sway over all proceedings.
During Mr McCarthy's marathon bid for the speakership in January, Mr Gaetz, 41, was among the handful of Republicans who repeatedly voted against him.
On the 15th and final vote, while others flipped in support of Mr McCarthy, Mr Gaetz and five others abstained by voting "present".
The tensions that have been simmering ever since boiled over this weekend, after many more Democrats voted for the funding measure passed by the House.
On Monday, Mr Gaetz questioned why statements from the Speaker and President Biden had alluded to new Ukraine funding.
He demanded that Mr McCarthy provide answers or face a motion to vacate "later this week".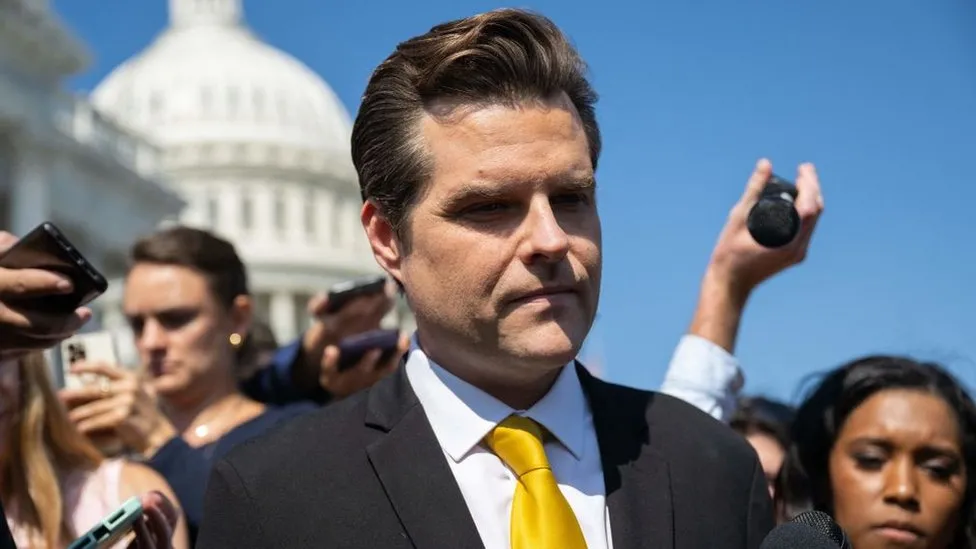 Motions to vacate are formal bids filed as a first step in removing a sitting Speaker. The rare procedural tool has only been used twice in the past century and never successfully.
It was last seen in 2015 when Republicans sought to oust Speaker John Boehner. The motion failed but built enough pressure on Mr Boehner that, unable to unite his caucus, he announced his resignation two months later.
In order for Mr Gaetz's motion to succeed, he will need at least five Republicans to back him up – and there are some early indications he may have enough support.
The big X factor now is whether or not Democrats will step in to help Mr McCarthy hold on to his job.
Party leaders have reportedly told members that, regardless of their decision, they must act in unison.
Most Democrats say publicly that they do not trust Mr McCarthy and have little interest in bailing him out, unless they can extract some concessions from him.
"I don't think we'd give up votes for free," New York lawmaker Alexandria Ocasio-Cortez told CNN on Sunday.
"Would I vote to vacate? Absolutely," she added. "Kevin McCarthy is a very weak Speaker. He has clearly lost control of his caucus."
Even if the vote to oust Mr McCarthy fails, it is not a guarantee Mr Gaetz would immediately give up.
Earlier this month, he told reporters: "If we have to begin every single day in Congress with the prayer, the pledge and the motion to vacate – then so be it."
Source: BBC News